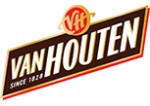 With a history that goes back over 180 years, Van Houten is one of the most acclaimed cocoa powder manufacturers. It was 1828 when its founder, Coenraad Van Houten, invented first the process of manufacturing cocoa in Amsterdam, Netherlands. Thanks to its delicious taste and excellent soluble property, Van Houten cocoa quickly conquered the hearts of thousands of chocolate lovers worldwide and paved the way for the evolution of the hot chocolate drink industry.
Van Houten has developed a range of high quality products to address consumers' constantly evolving drinking habits and is suitable for baking and for making delicious cocoa drinks.

With over 25 years of presence in the market, Van Houten is the favorite cocoa of Greek consumers thanks to its authentic and rich flavor.